HONG KONG'S ANNUAL ISLAMIC CONVENTION
"At The Peak" is the largest annual Islamic Convention that takes place in Hong Kong, it was launched in April 2013. Why is the convention called "At The Peak"? The Peak is one of the landmarks of Hong Kong and the highest point in town. The aim of the convention is to motivate the people of Hong Kong (Muslims and Non-Muslims) and encourage them to reach their own individual peak of success within this world and for the hereafter.
Taboo - Unspoken Struggles

We have been avoiding what's under the surface for long enough that if we remained silent for much longer, our condition will only get worse.
Ask yourself, why issues like domestic violence, drug abuse in our communities, porn addiction, relationship crises, join family system problems, emotional and physical abuse, in laws drama, etc are topics that are less talked about in our society? Simply because most of these issues are considered TABOO, sensitive matters that by default we were told to avoid.
Well, this era should come to an end. At The Peak 2019 Convention is inviting you to hear all about the unspoken struggles of our communities, issues that are labeled TABOO, which if we tackled, discussed openly and communicate them in the right manner, most of our problem will vanish.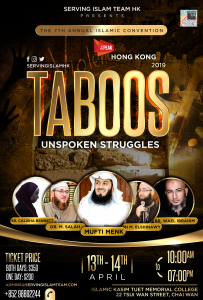 Both Days
13th & 14th April
350 HKD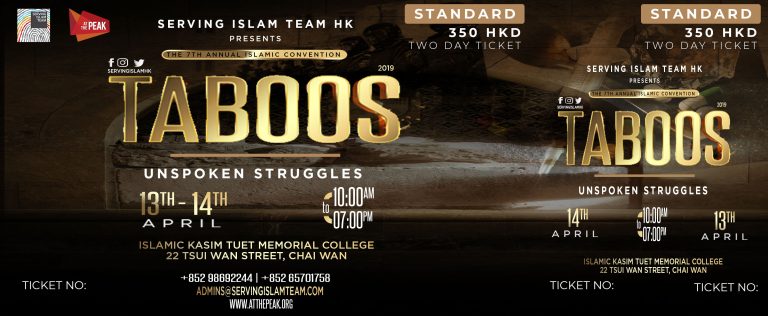 One Day
Saturday, 13th April
200 HKD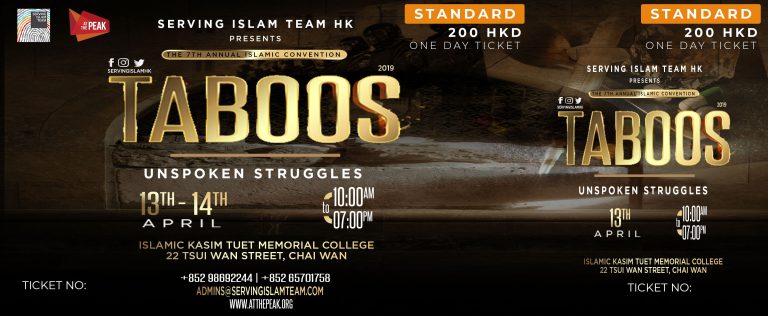 One Day
Sunday, 14th April
200 HKD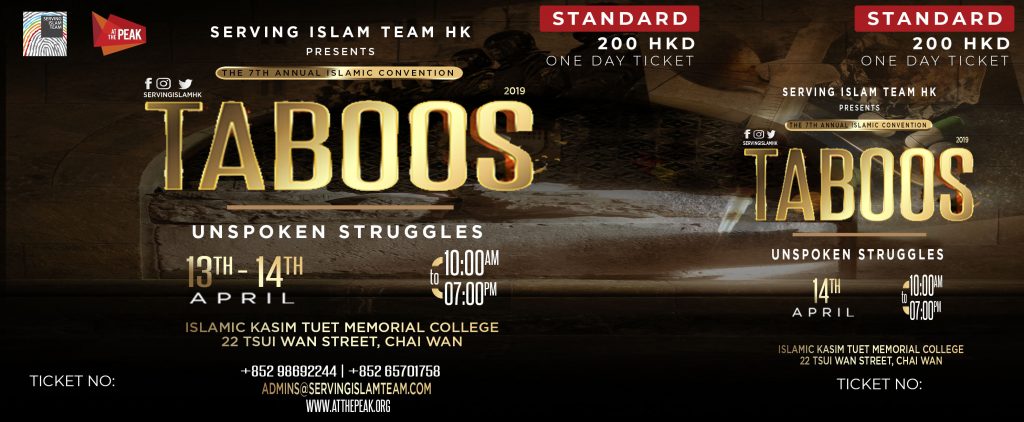 GET IN TOUCH TO SEE HOW YOU CAN BECOME A PART OF THE ANNUAL ISLAMIC CONVENTION IN HONG KONG.
EMAIL: ATTHEPEAK@SERVINGISLAMTEAM.COM
Serving Islam Team
Founded by Br. Wael Ibrahim with the vision of becoming the most accessible, well informed and highly coordinated organisation in conveying the message of Islam to everyone in Hong Kong City and the rest of the world.
It is now recognised as one of the International organisations which has cooperated with many scholars and different Islamic teams around the world including: Sheikh Yusuf Estes and Guide US TV, Dr. Muhammad Salah and Huda TV, Mufti Ismail Menk, Sheikh Kamal El Mekki, Sheikh Abdul Bari Yahya, Sheikh Hussain Yee, Sheikh Bilal Philips, Eng. Faded Soliman and Bridges Foundation, Br. Hamza Tzortzis and iEra, Sheikh Muiz Bukhara and The Daily Reminders, Sheikh Sajid Umar and many others.